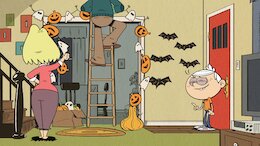 Pick a random title
The Loud House / Season 1 / The Price of Admission/One Flu Over the Loud House
2017 7.2/10 (3) NR SuperHD
Lincoln disobeys his parents to watch a scary movie. Lincoln and his uninfected sisters try to avoid their zombie-like family members who have a cold.
Not available in United States IMDB
Cristina Pucelli, Jill Talley, Lara Jill Miller, Grey Griffin, Grant Palmer, Liliana Mumy, Nika Futterman, Catherine Taber, Jessica DiCicco, Brian Stepanek, Collin Dean, Grant Palmer, Collin Dean, Catherine Taber, Liliana Mumy, Nika Futterman, Cristina Pucelli, Jessica DiCicco, Grey Griffin, Lara Jill Miller, Brian Stepanek, Jill Talley, Chris Savino
Kids' TV, TV Cartoons, TV Comedies, TV Shows
Original language: Dari
Available in these countries: Belgium, France, Germany, Hong Kong, Malaysia, Netherlands, Poland, Portugal, Singapore, South Africa, Spain, Switzerland, Thailand, Turkey, United Kingdom
Available since Sep 30, 2019.