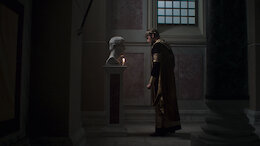 Pick a random title
Rise of Empires: Ottoman / Season 1 / Ashes to Ashes
2020 8.0/10 (16) TV-MA SuperHD
Ottoman cannons reduce the city walls to rubble, and Venetian reinforcements arrive too late. Mehmed ushers in a new era for the Ottoman Empire.
Charles Dance, Ushan Cakir, Tommaso Basili, Damla Sonmez, Cem Yigit Uzumoglu, Tolga Tekin, Osman Sonant, Birkan Sokullu, Ilayda Akdogan, Charles Dance, Cem Yiğit Üzümoğlu, Tuba Büyüküstün, Tommaso Basili, Selim Bayraktar, Birkan Sokullu, Osman Sonant, Tolga Tekin, Damla Sönmez, Ushan Çakır, İlayda Akdoğan
Documentaries, Historical Documentaries, Military Documentaries, TV Documentaries, TV Shows, US TV Programmes
Original language: English (India)
Language audio available in United States: English (India), Galician, Greek, Japanese, Spani
Language subtitles available in United States: English (India), Galician, Serbian (Latin), Spani, Traditional Chinese
Available in these countries: Argentina, Australia, Belgium, Brazil, Canada, Colombia, Czech Republic, France, Germany, Greece, Hong Kong, Hungary, Iceland, India, Israel, Italy, Japan, Lithuania, Malaysia, Mexico, Netherlands, Poland, Portugal, Russia, Singapore, Slovakia, South Africa, South Korea, Spain, Sweden, Switzerland, Thailand, Turkey, United Kingdom, United States
Available since Jan 24, 2020.