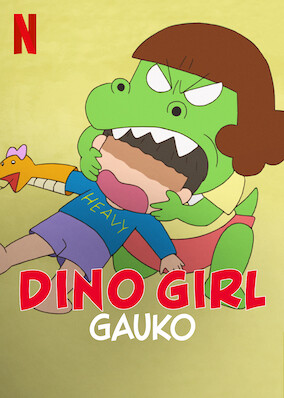 Pick a random title
Dino Girl Gauko / Season 1
2019 7.2/10 (16) TV-Y7 SuperHD
When she gets angry, middle schooler Naoko turns into fierce dinosaur Gauko! Thanks to friends, aliens and more, her life is full of wacky incidents.
Naoko Matsui, Chafurin, Eri Ozaki, Madoka Hiraide, Takuro Hijioka, Izu Konishi, Risa Nakamura, Yuri Fujiwara, Hiroshi Kamiya, Hikaru Yuki, Tomoka Kuzutani, Madoka Yokoyama, Tomomi Yamakawa, Chika Okubo, Chie Kojiro, Ryoko Shiraishi, Yuto Kazama, Miyako Kobayashi, Arisa Takami, Mari Mashiba, Koharu Nogata, Chika Sakamoto, Tomoyo Chujo, Tadashi Miyazawa, Sonosuke Hattori, Kazue Ikura, Sawako Yoshida, Yuki Arimoto, Hidekatsu Shibata, Ayako Takamura, Yui Toita, Karen, Mutsuki Arisawa, Naoko Matsui, Hiroshi Kamiya, Kazue Ikura, Chafurin, Chie Kojiro, Mari Mashiba, Ryoko Shiraishi, Hidekatsu Shibata, Tadashi Miyazawa, Sonosuke Hattori, Karen, Yui Toita, Izu Konishi, Eri Ozaki, Risa Nakamura, Tomoyo Chujo, Takuro Hijioka, Sawako Yoshida, Chika Okubo, Yuri Fujiwara, Tomomi Yamakawa, Hikaru Yuki, Miyako Kobayashi, Mutsuki Arisawa, Koharu Nogata, Tomoka Kuzutani, Madoka Yokoyama, Madoka Hiraide, Ayako Takamura, Yuki Arimoto, Yuto Kazama, Arisa Takami, Chika Sakamoto
Anime, Anime Comedies, Anime Series, International TV Shows, Japanese TV Shows, Kids' TV, TV Shows
Original language: Ita
Language audio available in United States: Dutch, Finnish, Ita, Macedonian, Slovenian
Language subtitles available in United States: Dutch, Ita, Russian, Slovenian, Tamil
Available in these countries: Argentina, Australia, Belgium, Brazil, Canada, Colombia, Czech Republic, France, Germany, Greece, Hong Kong, Hungary, Iceland, India, Israel, Italy, Japan, Lithuania, Malaysia, Mexico, Netherlands, Poland, Portugal, Russia, Singapore, Slovakia, South Africa, South Korea, Spain, Sweden, Switzerland, Thailand, Turkey, United Kingdom, United States
Available since Nov 22, 2019.