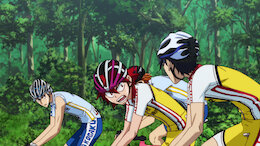 Pick a random title
Yowamushi Pedal / Season 4 / The Two Aces!!
2013 7.9/10 (433) NR SuperHD
Hakone Gakuen heads for the goal on the first day of the Inter High, but Naruko, Sohoku's all-rounder, shows what he's made of as he races up a climb.
Tomokazu Seki, Shotaro Morikubo, Kentaro Ito, Daiki Yamashita, Kohsuke Toriumi, Jun Fukushima, Hiroki Yasumoto, Showtaro Morikubo, Kentaro Ito, Daisuke Kishio, Yoshitsugu Matsuoka, Junichi Suwabe, Ayaka Suwa, Megumi Han, Tomoaki Maeno, Tsubasa Yonaga, Tetsuya Kakihara, Satoshi Hino, Hiroyuki Yoshino, Atsushi Abe, Koji Yusa, Kouki Miyata, Hiro Shimono, Wataru Hatano, Yuichi Nakamura, Kenji Nojima, Mamoru Miyano, Daisuke Ono, Yuma Uchida, Jun Fukuyama
Anime, Anime Dramas, Anime Series, Family Watch Together TV, International Kids TV, International TV Shows, Japanese Kids TV, Japanese TV Shows, Kids Anime, Kids' TV, School Anime, Shounen Anime, Sports & Fitness, Sports Anime, TV Shows, TV Shows Based on Manga, TV Shows based on Comics
Original language: Ita
Language audio available in United States: Ita
Language subtitles available in United States: Brazilian, Dari, Filipino, Ita, Southern Sotho
Available in these countries: Argentina, Brazil, Colombia, France, Hong Kong, India, Japan, Malaysia, Mexico, Singapore, South Korea, Thailand, United States
Available since Sep 01, 2015.