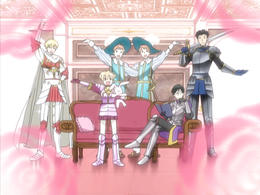 Pick a random title
Ouran High School Host Club / Season 1 / A Challenge from Lobelia Girls' Academy!
2006 8.2/10 (7.4k) TV-PG SuperHD
The Zuka Club drops in to check out the hosts -- and isn't impressed. In fact, Zuka has every intention of stealing Haruhi away from the boys.
Ken'ichi Suzumura, Maaya Sakamoto, Vic Mignogna, Ayaka Saito, Monica Rial, Mike McFarland, Caitlin Glass, Daisuke Kirii, Kenichi Suzumura, Luci Christian, Mamoru Miyano Directed by Takuya Igarashi
Anime, Anime Comedies, Anime Dramas, Anime Series, TV Shows
Original language: Ita
Language audio available in United States: Dutch, Ita
Language subtitles available in United States: Dutch
Available in these countries: Canada, Japan, United States
Available since Apr 14, 2015.