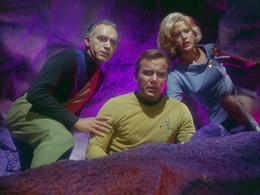 Pick a random title
Star Trek / Season 1 / What Are Little Girls Made Of?
1966 8.3/10 (69k) TV-14 SuperHD
The Enterprise's search for famous scientist Roger leads Kirk to a deserted planet where Roger, who lives with two lifelike androids, turns on Kirk.
Not available in United States IMDB
Leonard Nimoy, William Shatner, DeForest Kelley, Majel Barrett, Walter Koenig, Nichelle Nichols, James Doohan, Grace Lee Whitney, George Takei
Alien Sci-Fi, Classic TV Shows, Cult TV Shows, Family Watch Together TV, Sci-Fi & Fantasy, TV Action & Adventure, TV Sci-Fi & Fantasy, TV Shows, US TV Programmes
Original language: English
Available in these countries: Argentina, Australia, Belgium, Brazil, Canada, Colombia, Czech Republic, France, Germany, Greece, Hong Kong, Hungary, Iceland, India, Israel, Italy, Japan, Lithuania, Malaysia, Mexico, Netherlands, Poland, Portugal, Russia, Singapore, Slovakia, South Africa, South Korea, Spain, Sweden, Switzerland, Thailand, Turkey, United Kingdom
Available since Apr 14, 2015.