Apr 15, 2015
Marvel Anime: X-Men / Season 1
2011
SuperHD
Play
Netflix Page
A year after their dissolution, the X-Men are re-assembled by Professor Charles Xavier to investigate the kidnapping of young mutants in Japan.
Yurika Hino, Keiji Fujiwara, Takako Honda
Itali
Apr 14, 2015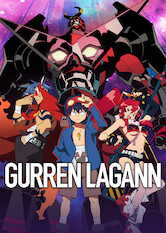 Gurren Lagann / Season 1
2007
SuperHD
Play
Netflix Page
When a young laborer escapes to the world aboveground, he discovers a violent land in which humans battle robots controlled by a power-hungry noble.
Jamieson Price, Daiki Nakamura, Katsuyuki Konishi, Kana Ueda
dir. Hiroyuki Imaishi
Itali
Naruto the Movie 2: Legend of the Stone of Gelel
2005
SuperHD
Play
Netflix Page
While on a mission to return a missing pet, Naruto and two fellow ninjas are ambushed by brutal knights led by the enigmatic Temujin.
Gaamon Kai, Takako Honda, Akira Ishida, Chie Nakamura
dir. Hirotsugu Kawasaki
Ita
96 minutes